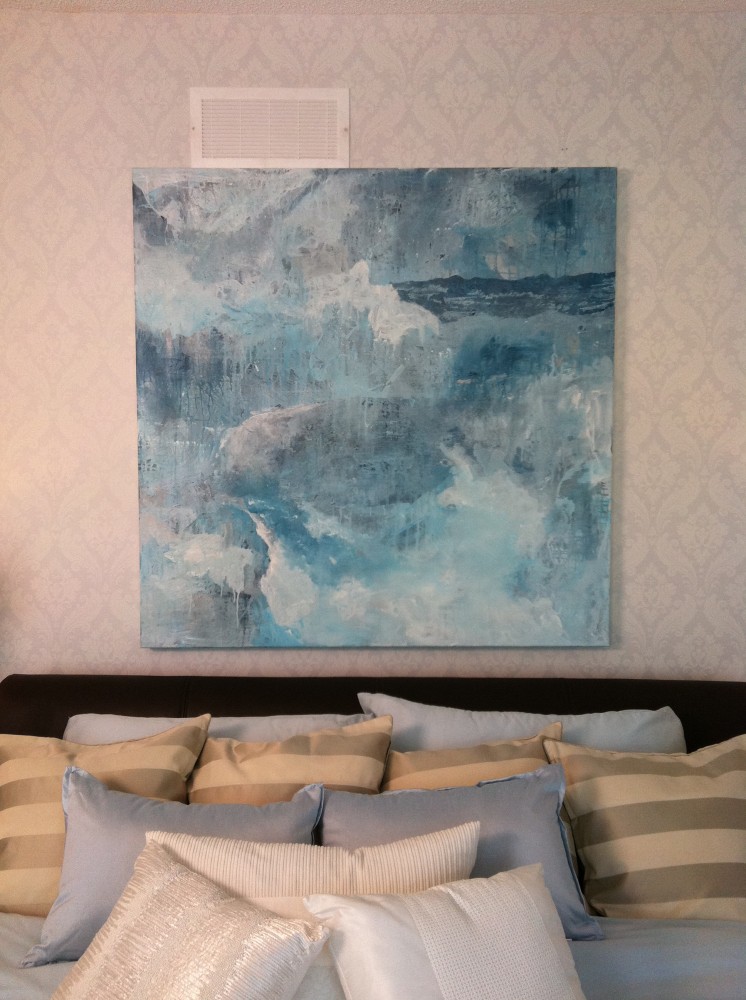 EDUCATION
2009-2012 Painting Major, Emily Carr University of Art and Design, Vancouver, BC
2008-2009 First Year Studies, Alberta College of Art and Design, Calgary, AB
2002-2004 Art History, University of British Columbia, Vancouver, BC
EXHIBITIONS
2011 The Autists Gala, Art Auction curated by Charlie Pachter, Koerner Hall, Toronto, ON
2010 Katharine Ferns and Sarah Holmes, Corridor Collective, Canmore, AB
2010 Fabrication, Concourse Gallery, Emily Carr University of Art and Design, Vancouver, BC
COMMISSIONS
2011 The Property Brothers, Episode "Katherine & Jordan"
PUBLICATIONS
2014 We Knit Graffiti, Magda Sayeg (knittaplease), Lark Books
AWARDS
2011 John David Carr Memorial Scholarship
2011 Gwyn and Aileen Gunn Bursary
2010 Jack and Doris Shadbolt Scholarship
2010 Henry Boyer de la Giroday Memorial Scholarship
2010 Gwyn and Aileen Gunn Bursary
Katharine Ferns' work is part of collections across Canada and the United States.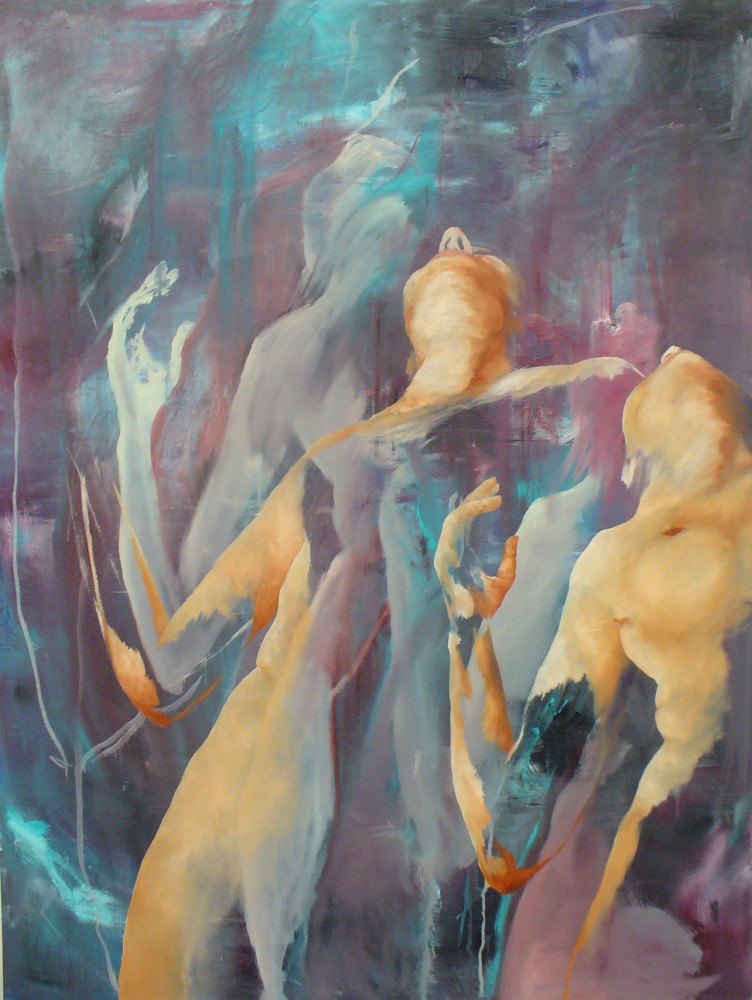 ---
ARTIST STATEMENT
My work focuses on the construction of identity through our remembering and the mis-remembering of the past. Our conceptions of the past, whether vivid or distorted, form our current mythologies and perceptions of ourselves. My work questions how identity is constructed when memory is disconnected, repressed or absent. Some events of the past are stored as sensory fragments without a coherent narrative or semantic guide within the mind and held as body memory under the skin. I focus on how the body holds events from the past that cannot be expressed through language. Using the visual imagery of the figure, I am questioning whether tacit communication of the body is possible in my paintings.
In my work I am attempting to communicate this state of being beyond language and this state of being dissociated from language, the body and sense of self. The layering of imagery is a reoccurring element in my work, as the figures remain unresolved despite the attempts of reconstruction. This relates to the healing process that produces not only physical scaring but also involves the re-conception of self. The figures remain fragmented to communicate this state of experiencing multiple layers of memory that do not resolve into a coherent narrative required by society.
---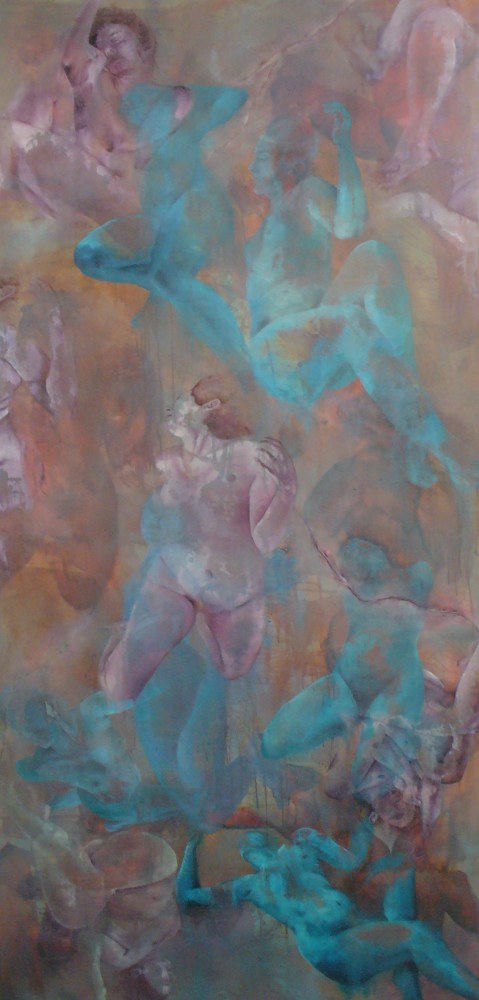 ---
PRESS:
The Autists Auction, Koerner Hall, Toronto, Ontario, May 17th, 2011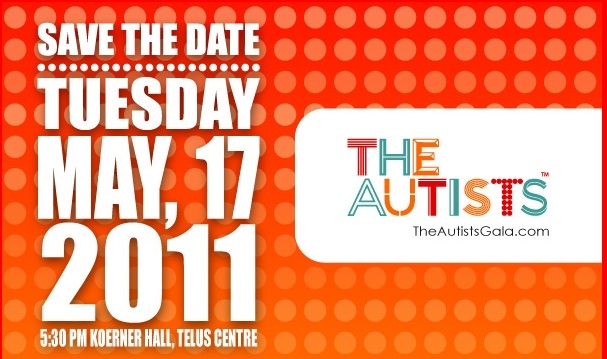 Link: Photo Gallery of The Autists Auction
CANMORE LEADER, AUGUST 2010
Exploring Identity
By Hamish MacLean/Canmore Leader
A Canmore woman has spent the summer at The Corridor Collective, exploring identity and pushing her artistic boundaries.
Katharine Ferns is one of three artists who will be showing her work at a one-day art show Saturday, Aug. 28 — Corridor Collective: Katharine Ferns, Sarah Holmes and Denise Scammell.
Ferns will show the results of her efforts over the past two months, nine oil-and-acrylic on canvas pieces. The work is a departure for the woman, who, after pursuing art for years after finishing high school in Canmore, will head to Vancouver Monday to finish her third and fourth years at the Emily Carr University of Art and Design on Granville Island.
"It's good to be in that community where teachers say, 'No, you've got to do this,'" she said. "Before I think my work was really tight and I was really 'precious' with what I was doing.
"I had this really distinct vision and so being pushed out of that I'm able to be more free."
"I think a lot of artists get really precious at the beginning of their practice," she said. "You want everything to work out and you want it to be a certain way and you have to let go of that and see what happens."
This summer she said she had wanted to push herself and she said she has created a series that has gone beyond what she's done before.
"This was a big experiment, I've never, kind of, 'blown up' the figure that way," Ferns said.
Ferns has painted fragmented ethereal figures in oil on an acrylic base, a move that will help her as her studies become more self-directed and a furthering in her artistic exploration of the notion of identity.
"A lot of it is about your unconscious," she said of her fragmented, dreamlike figures. "I'm exploring how your memory, or your mis-remembering, of the past influences who you are and creates your identity," Ferns said. "And it's all our past experiences: the good and the bad of your life construct who you are today. But we create that construction. It's the story that we tell about ourselves that creates who we are.
"I think it's also all the different roles that we play in our lives — you're a sister, you're a daughter, you're a mother, you're a wife — all these different experiences of your life come together to create who you are. But also on the other side, I'm exploring, what if your memory is repressed or disjointed, then how do you construct who you are if parts of your past are missing?"
In Ferns' exploration of identity, she notes that it is important to recognize both the good and bad experiences that shape who we are.
"Scars are the graffiti that imprint our bodies or our experiences, whether it's falling off your bike or something more traumatic, that becomes part of you."
She said that especially growing up in a small town people think that they know who you are and that people can feel restricted by others' understanding.
Ferns was born in Toronto and moved here at 16 years old to finish high school. After graduating high school, Ferns left to work in London and Paris and she travelled, taking in as many art galleries as she could.
She returned to Canmore for a short period, before she decided to take art history at the University of British Columbia in Vancouver. Health issues prompted a return to Canmore when she began practicing and she met Sarah Holmes and started taking night classes at the Alberta College of Art and Design in Calgary.
That led to a move to Calgary before she took a step back west — closer to where her family has settled — and started her studies at Emily Carr.
"I think because I waited so long to go to art school — I took a lot of workshops, I was, sort of, building up what I wanted to do when I actually got to school," Ferns said. "And then when you get to school you have to do all these assignments that you don't really want to do, but you realize that they're pushing you out of your comfort zone — which is great."
Though she fell in love with the abstract works of Spanish painters in the 1950s while working overseas, abstract painting itself, Ferns said, she found difficult and frustrating at first, but now, the painter said, she loves it.
Ferns works out of her Kerrisdale living room in Vancouver, but said that in Canmore without the space afforded her at the Corridor Collective she wouldn't have had the space to work this summer.
Sarah Holmes also works at the Elk Run studio and has been putting in a number of hours preparing for the show as well.
She works with recycled sterling silver and sterling silver as she moves more towards an eco-friendly line of work.
Although Ferns and Holmes work in different media, they share an artistic sensibility.
"It's nice to be in a space that's creative and to have someone there to bounce ideas off and to talk to," Holmes said.
"From an artist's viewpoint, when you meet another artist you're going to bounce ideas of each other and whatever medium you're going to use, you're both going to feed off each other."
Holmes said that while recycled silver is a little harder to find, she decided to go the extra mile. Holmes spent a couple of years to find a distributor.
Holmes has worked with different goldsmiths and attended the Nova Scotia College of Art and Design and worked with a goldsmith on Granville Island and took classes in Seattle before returning to Canmore and the studio.
"It's much easier to be creative here than it is in the hustling and bustling of a city, it's great there to market myself, but I can still do that through the Internet, a website, whatever it is that I need, and having stores that carry my jewelry — it's cool."
Holmes works with a wide variety of stones as well that she sets in some of her pieces.
Holmes makes: earrings, rings, pendants, necklaces, bracelets, cuffs, and has started now to make money clips for men.
"My thing is: I want to enhance someone's beauty that's already there," Holmes said. The idea behind her design is such that people can choose pieces now and still wear them five years later.
The one-day show at the Corridor Collective will also feature the work of Scammell: A collection of handmade, eco-friendly handbags by the Canmore designer.
The Corridor Collective studios are located above the Ammonite Factory at #204 – 106 Bow Meadows Crescent in Canmore.
ROCKY MOUNTAIN OUTLOOK, AUGUST 2010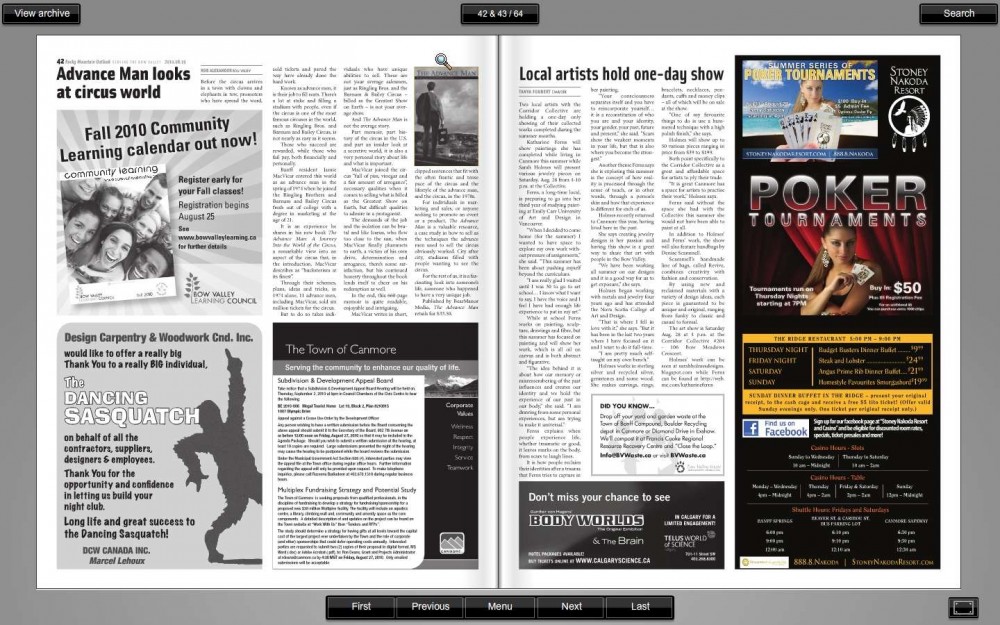 By Tanya Foubert, Rocky Mountain Outlook
Two local artists with the Corridor Collective are holding a one-day only showing of their collected works completed during the summer months.
Katharine Ferns will show paintings she has completed while living in Canmore this summer while Sarah Holmes will present various jewelry pieces on Saturday, August 28th from 4-10pm at the Collective.
Ferns, a long-time local, is preparing to go into her third year of studying painting at Emily Carr University of Art and Design in Vancouver.
"When I decided to come home (for the summer) I wanted to have space to explore my own work without pressure of assignments" she said. "This summer has been about pushing myself beyond the curriculum.
"I am really glad I waited until I was 30 to go to art school … I know what I want to say, I have the voice and I feel I have had enough life experience to put in my art."
While at school Ferns works on painting, sculpture, drawings and fibre, but this summer has focused on painting and will show her work, which is all oil on canvas and is both abstract and figurative.
"The idea behind it is about how our memory or misremembering of the past influences and creates our identity and we hold the experience of our past in our body," she said. "I am drawing from some personal experiences but am trying to make it universal."
Ferns explains when people experience life, whether traumatic or good, it leaves marks on the body, from scars to laugh lines.
It is how people reclaim their identities after a trauma that Ferns tries to capture in her painting.
"Your consciousness separates itself and you have to reincorporate yourself … it is a reconstruction of who you are and your identity, your gender, your past, future and present," she said. "Scars show the weakest moments in your life, but that is also where you become the strongest."
Another theme Ferns says she is exploring this summer is the concept of how reality is processed through the sense of touch, or in other words, through a person's skin and how that experience is different for each of us.
Holmes recently returned to Canmore this year, having lived here in the past.
She says creating jewelry designs is her passion and having this show is a great way to share that art with people in the Bow Valley.
"We have been working all summer on our designs and it is a good way for us to get exposure," she says.
Holmes began working with metals and jewelry four years ago and has attended the Nova Scotia College of Art and Design.
"That is where I fell in love with it,"  she says. "But it has been in the last two years where I have focused on it and I went to do it full time."
"I am pretty much self-taught, on my own bench"
Holmes works in sterling silver and recycled silver, gemstones and some wood. She makes earrings, rings, bracelets, necklaces, pendants, cuffs and money clips – all of which will be on sale at the show.
"One of my favourite things to do is use a hammered technique with a high polish finish," she says.
Holmes will show up to 50 various pieces ranging in price from $39 to $199.
Both point specifically to the Corridor Collective as a great and affordable space for artists to ply their trade.
"It is great Canmore has a space for artists to practice their work," Holmes says.
Ferns said without the space she had with the Collective this summer she would not have been able to paint at all.
In addition to Holmes' and Ferns' work, the show will also feature handbags by Denise Scammell.
Scammell's handmade line of bags, called Revive, combines creativity with fashion and conservation.
By using new and reclaimed materials with a variety of design ideas, each piece is guaranteed to be unique and original, ranging from funky to classic and casual to formal.
The art show is Saturday August 28 at 4pm at the Corridor Collective at #204, 106 Bow Meadows Crescent.
Holmes' work can be seen at www.sarahholmesjewelry.com while Ferns can be found at www.katharineferns.com
---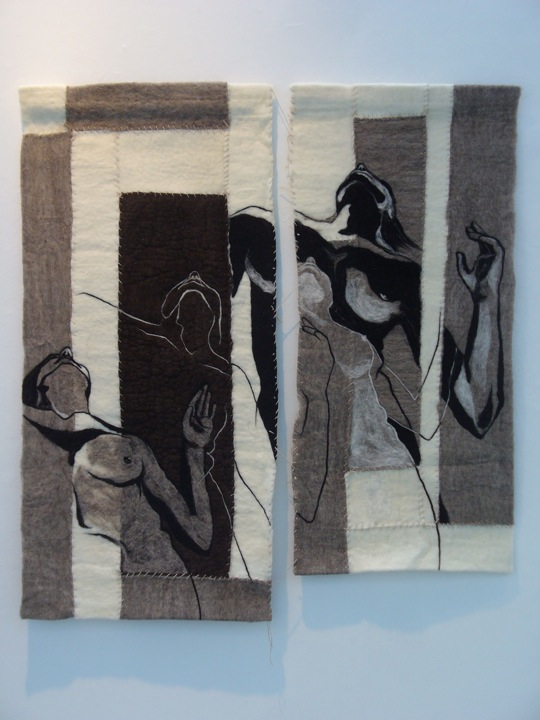 ---
LINKS: